How to define incoming call routing rules in your PBX
Ozeki Phone System XE offers professional technology for managing incoming calls efficiently. Availability is one of the most important factor for a company, this way, it is critical to ensure that customers or business partners can reach you anytime. The ideal solution for this purpose is a first-rate communication system based on Ozeki Phone System XE.
As Figure 1 demonstrates, Ozeki Phone System XE handles incoming calls efficiently. When there is an incoming call, the PBX simply forwards the call to the dialed extension. As an advanced setting, you can also specify call routing rules that will define the extensions an incoming call needs to be forwarded to. By creating a ring group it is possible to ring more than one extension and when one of the devices accepts the incoming call, other stops ringing.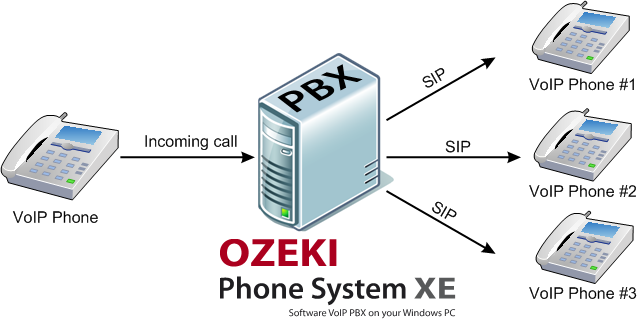 Figure 1 - Ozeki Phone System XE handles incoming calls
In order to keep up with competitors, organizations need to ensure reliable availability (often 24/7). Continuous availability requires a modern and powerful telephone system that is able to meet requirements of customers, partners and employees; while it needs to be able to take over the basic tasks from operators to enhance work flow. It means that the corporate PBX needs to ensure a very efficient incoming call management with effective call routing rules that allows automated call management.
Each employee needs an extension registered into the PBX then incoming calls can be directly forwarded to the extension of the intended person. Advanced PBXs like Ozeki Phone System XE allows to register analog phones, cell phones, IP phones, softphones, webphones, etc. into the telephone system in order to ensure an extremely efficient communication system with outstanding services.
Once you setup your corporate telephone system and you already connected all of the extensions, you are ready to synchronize the registered extensions: with the help of Ozeki Phone System XE, this procedure takes only a few seconds. You can easily specify tasks to be executed by different extensions in specific cases.
Configuration options
You can configure Ozeki Phone System XE to execute various tasks based on corporate requirements in case there is an incoming call:
Status related call forwarding: you can set in the graphical user interface how extensions should handle incoming calls in different statuses: so if the status of the given extension is "available", then the call is accepted. However, if the status is "busy" or "not available", the call can be placed on hold or forwarded to another extension (even within a ring group), etc.

Caller related call forwarding: it is possible to set some phone numbers not to ring on one or more given extensions. You can easily configure the server to forward these incoming calls to another extension or ring group; or to return a "busy", "not available" or other notification to the caller

Of course, you can set these phone numbers to be always forwarded to the given extension(s) or ring group. You can use this feature in case of incoming and internal calls, as well: by using these features, you can restrict or allow the free use of extensions for your employees.

Automatic call forwarding: if you have an extension that you do not use for a while (because of, e.g. disease, holiday or other reasons), you can forward all incoming calls to another extension, other extensions or another ring group.

Automatic call forwarding using IVR: if you use IVR (Interactive Voice Response), incoming calls can be forwarded automatically to the extension that has been selected by the caller in the voice menu with his keypad.
Configuration
In order to apply the above listed features in the PBX server, all you need to do is to select the wished options in the respective menu items of the graphical user interface and specify the extension number for the given functionality. This procedure takes only a few minutes per extension or ring group even in case of large organizations.
Once you finished the configuration process, you gain a reliable, advanced and ready-to-use corporate communication system based on Ozeki Phone System XE.
Related pages: