Outgoing Calls
Ozeki Phone System XE makes it possible to define outbound call routing rules efficiently. This article elaborates on outgoing calls that are made though Ozeki Phone System XE server: what kind of calls can be made, how these calls go through to the called party, and what configurations can be used for making this progress more effective. With the help of Ozeki Phone System XE, it is possible to define more outbound rules to help you to handle various situations.
With your Ozeki Phone System XE, making troublefree outgoing call can be done easily: any of your extensions can make outgoing calls to anywhere in the world. (Figure 1)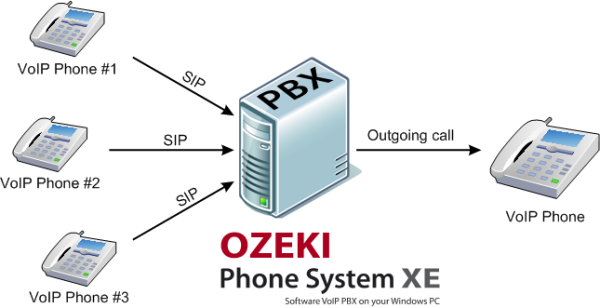 Figure 1 – The route of the call initiated from a corporate extension
Ozeki Phone System XE helps you to control outgoing calls. With these features you can easily create statistics and exact accountings to measure efficiency by limitating your outgoing calls.
Outgoing calls
When an employee initiates a call from one of the corporate telephone devices (from a phone, a computer or even a mobile device), the employee can call both an internal extension and an external telephone number. Accordingly, it is recommended to make a distinction between internal and external calls and to make separate call routing rules for them during configuration. Separation is useful because internal calls are free of charge so if it is possible the PBX can select an internal extension to reach the intended person according to the call routing rule.
Internal calls
Ozeki Phone System XE allows to specify additional direct telephone numbers (e.g. mobile number) to the internal extensions of employees. For handling these additional phone numbers, it is recommended to configure the telephone system to primarily use the internal extensions of employees for contacting instead of using direct telephone numbers. Since these direct telephone numbers can be reached though the line of a service provider, these calls will be charged. As opposed to them, internal calls are made only via the server so they are completely free.
You can easily configure Ozeki Phone System XE to use internal extensions of employees primarily for making calls within a few seconds. For this purpose, you only need to restrict outgoing calls to direct telephone numbers in the menu of the PBX.
For further information, please visit internal calls page.
Outgoing call routes
When an employee initiates a phone call from a corporate phone extension to a foreign country, the call will go through the following route: first, it goes through the corporate server, then the network of a service provider and arrives to the Internet. Through the Internet, it arrives to the server of the Ozeki Phone System XE that forwards the call to its destination. Using the Internet, Ozeki Phone System XE is able to connect to any of the PSTN networks worldwide; and the call will arrive to the called party through the PSTN network.
Accordingly, the server of Ozeki Phone System XE connects to the PSTN network, which the dialed number belongs to.
These calls are charged according to local tariffs that results in same costs as if the call would have been made from the neighborhood.
How to configure outgoing calls
Ozeki Phone System XE offers numbers of solutions for handling outgoing calls efficiently. For this purpose, all you need to do is to add extensions and/or ring groups to the given lists in the menu of graphical user interface.
You can easily define which extensions will be included in the list according to your needs. This configuration step takes only a few seconds per item.
Advantages of configuring outgoing call routes
A well-configured telephone system makes the workflow easier and more efficient: you can control calls, ask for cost accounting, restrict the calls and also create call recordings. Let's see some of the options and their use:
Statistics: you can create statistics based on outgoing calls for a person, a group or even the whole organization. By logging outgoing calls, you can have exact data about the length of the initiated calls, the called numbers, etc. These statistics can help you improve the efficiency of the workflow in your business.

Efficiency: you can have exact data and statistics about the efficiency of employees in departments where lots of telephone calls are initiated during their daily work (e.g. sales and marketing departments). This way you can easily compare business results based on exact data. By comparing statistics, you can see if there is a need for improvement in efficiency and you can make the necessary steps in time instead of having deficit for months.

Control: with the help of Ozeki Phone System XE, you can also take control of your employees. By logging outgoing calls, you can see if an extension called internal or external numbers, how long the calls were, etc. For example, if there are too much external calls, you can configure the PBX to restrict outgoing calls when there is an option to reach the intended person on his internal extension.

Call records: call recording is an essential task for all call centers, however, other departments and organizations can also enjoy its advantages. Since call recording is the best solution for quality control on several fields, Ozeki Phone System XE makes call recording easily available for all departments. This way, you can easily create records about incoming and outgoing calls, as well.

Cost accounting: Ozeki Phone System XE makes exact cost accounting possible. This feature can be critical for organizations that provide cheap telephone lines for employees but the initiated calls are paid separately by the given department or branch office, etc. With cost accounting you can keep exact and transparent cost accounts separately so you can easily follow costs of one department or branch office.

Restrictions: as in case of incoming calls, you can also make restrictions for outgoing calls. Ozeki Phone System XE makes it possible to forbid premium rate calls or international calls for some extensions or ring groups.
Outgoing calls with Ozeki Phone System XE
Ozeki Phone System XE provides professional support for making outgoing calls worldwide from all of the corporate extensions. Due to its flexibility, the PBX offers remarkable options for configuring outbound call routes. This way, you can ensure a cost-effective, reliable and high quality telephone system for all employees.
Related pages: