How to setup call queues
In this section you can get informed about call queues: this important and necessary feature is used by call centres in particular, but also necessary for those who may have more incoming calls than communication channels. If you want to manage your customers' calls as efficiently as possible, you shall read this page carefully.
Call queuing with Ozeki Phone System XE is quite an easy task: as you can see in Figure 1, after opening the Ozeki Phone System XE Web GUI (web-based graphical user interface), you can configure the call queuing policy in a few minutes' time. As soon as you have finished, your system can be used. When configuring the call queuing policy, you can make settings not only for call queues but for the IVR (Interactive Voice Response), MOH (Music On Hold) and call recording as well (Figure 1).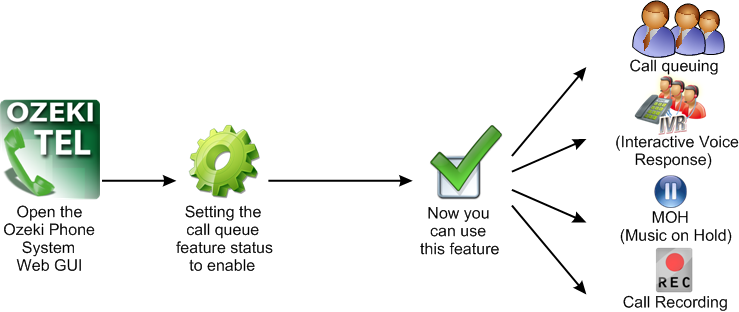 Figure 1 - Easy configuration of call queues with your Ozeki Phone System XE
By defining a call queuing policy, admins can define the queue of receiving incoming calls when there are more incoming calls than free phone lines. Call queuing is a crucial point in call management: if the customer has to wait too much, he will become angry or uninterested that can cause loss in efficiency. There are numerous options for managing call queues with the help of features like music on hold (MOH), interactive voice response (IVR), and some configuration tricks.
Music On Hold (MOH)
Music on hold is one of the most frequently used options in call centres. The music that you intend to use can be easily configured in your Ozeki Phone System XE: you can use the menu in the Ozeki Phone System XE webgui (graphical user interface) to upload the audio file that should be played. With this fast and easy process, the setting is ready. It is adviseable to play advertisement record instead of simple music – with this trick your customer can be informed about the news.
Interactive Voice Response (IVR)
The interactive voice response helps your customers finding the proper agent. With the help of this system, you can also:
play music on hold
play advertisement record
inform the customer when will he be connected
offer calling back if there are more customers waiting
Tricks
information about when the customer will be connected: this feature can be used if the agents have a given talk time (e.g. 3 minutes) for each call. In this case the system can inform the customer about how long must he wait according to the call queuing policy.

offering calling back: your Ozeki Phone System XE can also offer calling back for your customers. When there are several customers waiting, the system can call back the customers when their turn comes – in this case the customer will not wait and will not be tied to the phone for a long time. This may be the most comfortable solution for your customers and partners.
Your Ozeki Phone System XE can easily manage each solution and of course you can combine them according to your wishes: e.g. you can configure that the IVR should make less than three customers waiting – and play advertisement until being connected –, and the others can be called back. The number possible solutions are almost endless, you can configure every feature according to your taste.
To get to know more about call management and the great quality communication that your Ozeki Phone System XE provides, keep on reading with these pages: