What is RTCP (Real-time Transport Control Protocol)?
This article will give you information on RTCP protocols. By reading this article, you will be familiar what this protocol is and why it is needed in the communication process. Take a look at the following points that contain information on the protocol itself that is supported with a picture, read about the basic functions of RTCP and the different message types that it works with.
The RTCP protocol (Real-time Transport Control Protocol) is a companion protocol to RTP protocol. RTCP is responsible for controlling and monitoring data transmission and it also specifies different structures and procedures. RTCP gathers data for media information (Figure 1) such as octet and packet counts, lost packet counts, jitter and round-trip delay time. RTCP protocol gives feedback on the quality of the data delivered. In Figure 1 RTCP protocol controlls and monitors the data transmission between communication endpoints that are connected to the Ozeki Phone System XE.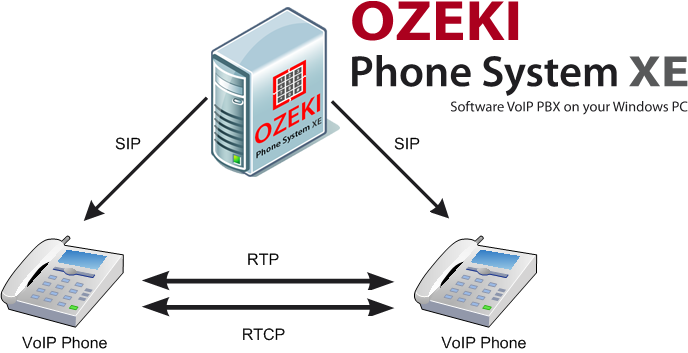 Figure 1 - What is RTCP?
3 Basic Functions of RTCP Protocol
In a session it collects data about data quality and sends back the collected data to the source.
It provides simple end-point identifiers.
If it receives data in a multicast transmission, the number of participants are huge and it has to handle it with session bandwidth management.
Message Types
RTCP categorises different kinds of packets:
(SR) Sender report: this report is delivered again and again by a sender who is active to report transmissions and data.
(RR) Receiver report: this report is delivered for passive participants who do not transmit RTP packets.
(SDES) Source description: sends end-point identifiers to participants.
(BYE) End participation: the source delivers a BYE message to end a data flow.
The RTP control protocol is one the protocols that describe VoIP connection. Ozeki Phone System XE uses SIP protocol to build up VoIP calls and it uses RTCP for controlling VoIP sound and quality.
You can read more about related topics if you take a look at the following pages:
If you became interested in this topic, please watch our video:


What is RTCP?