---
How to connect your Windows Phone to Ozeki Phone System
Make your Windows-based smartphone a fully functional mobile extension of your communication system. You only need to install a VoIP mobile application to instance AdoreSoftphone, that supports SIP protocol. This article demonstrates what else you will need and how you should configure your mobile phone in order for seamless communication.
Are you an Android user? Click here
How to create a connection
Step 1: Creating a SIP account in Ozeki XE
In order to connect your Windows Phone to Ozeki Phone System, first you need to create a SIP Extension. You can find detailed guide about how to create a SIP Extension here.
Step 2: Installing AdoreSoftphone
For connecting your smartphone to the Ozeki Phone System a mobile application is required. One of the most reliable apps is AdoreSoftphone, which makes it possible to use your phone as a mobile extension.
In order to install AdoreSoftphone you need to download it from Windows Phone Marketplace: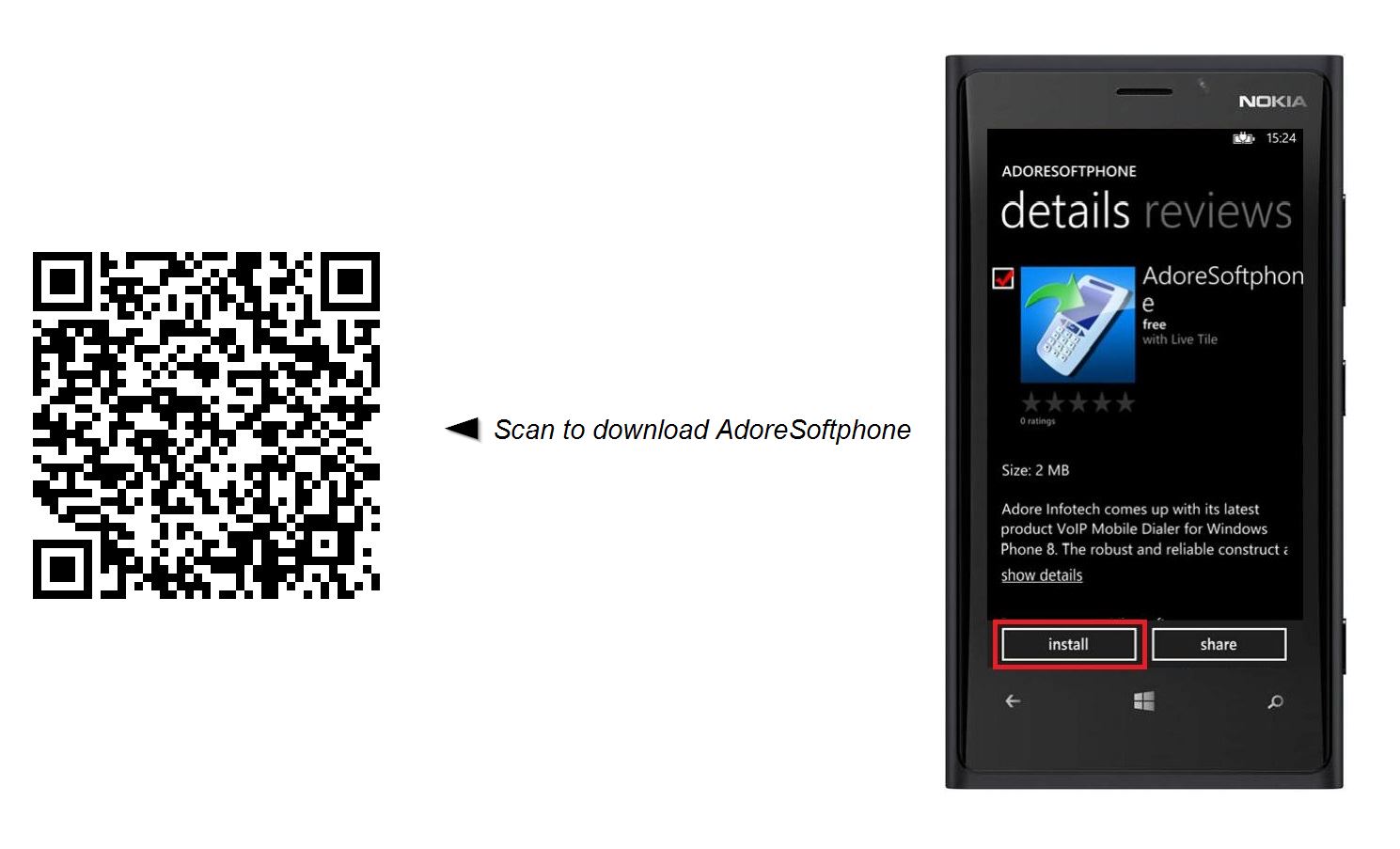 Step 3: Configuring AdoreSoftphone
After you have launched AdoreSoftphone, the Login panel will appear. Here, you need to provide the SIP account details that you defined earlier in the Ozeki Phone System (see Figure 2):
First, enter the IP address of your Ozeki Phone System XE into the "Sip" edit box.
Move to the "UserName" edit box and provide the phone number of the new extension. Your mobile phone will be available on this telephone number.
Finally, enter the password belonging to this extension.
When you finished press the Save button.

Figure 2 - Specify SIP account details

In the top left-hand corner of the screen the "UnRegistered" status message becomes "Registered", which shows that the SIP account registration process has been completed successfully (Figure 3). This suggests that your mobile phone is ready to use. For making a call, drag to the left the screen and the keypad will appear.

Figure 3 - Mobile extension is ready for use

Step 4: Setting up dial plans

Step 5: Making a test call

In order to initiate a call;

enter a phone number (the number of the extension you would call) by using the keypad.
press the Call button for dialing.

In Figure 4 you can see that our sample mobile extension (No.1002) called an other SIP extension (No. "1004"). In order to end the call press the "Hang Up" button.

Figure 4 - Making a test call

Figure 5 demonstrates an incoming call (No. "1004" extension calls No. "1002" mobile extension). In order to answer the call press the "answer" button. If you want to end the call press the "Hang Up" button.

Figure 5 - Receiving a test call

Conclusion

This article demonstrated what you need to do for connecting your Windows Phone to the Ozeki Phone System in order to turn it into a full-featured, portable mobile extension. If you follow the instructions above, you will be able to install and configure a new mobile SIP extension using AdoreSoftphone app, within a few minutes.

If you have any questions or need assistance, please contact us at  info@ozekiphone.com
More information
---
---