---
How to setup Ozeki Webphone Gateway with Drupal
By connecting a webphone to the Ozeki Phone System XE you can make it possible for your customers to reach your support staff easily. Any web browser is capable of handling microphones and web cameras, making voice and video chat become available. This leads to numerous new possibilities: fast, effective and easy-to-use availability (results in higher income) for companies, great quality communication and also fast, effective and easy-to-use accessibility for the customer.
This guide helps you to build your own CMS system with a Webphone Gateway. It creates more possibilities to reach your customers or your friend over the webphone connection. You can easily create this webphone if you follow the steps and configure the tools which are important for the connection. Ozeki Wephone Gateway provides you a new facility in world wide web. You can use it for your own business and aims. In order to build your own Webphone Gateway and start calling your contacts, you need to connect Ozeki Phone System XE to your CMS System.
System architecture

Figure 1 - Connection with Drupal
If you follow the steps of the configuration guide below, you will have own CMS system which is connected to Ozeki Webphone Gateway. The system will work as follows:
Create your own Drupal website.
Add Ozeki Phone System XE Webphone Gateway to your own site.
Connect the Webphone with Ozeki Phone system XE.
You can start call your contacts via Ozeki Webphone Gateway.
Configuration steps
In this few step you get information about how can you configure and build your own CMS system with Ozeki Webphone Gateway. Before you start to configure this solution it is assumed that you have already installed your Ozeki Phone System XE, downloaded from this page.
Step 1.) Install Drupal
First, download the newest version of Drupal from the official web page. Unpack the files to the directory of your webserver then you need to create a database named "drupaldb" in Wamp server (Figure 2).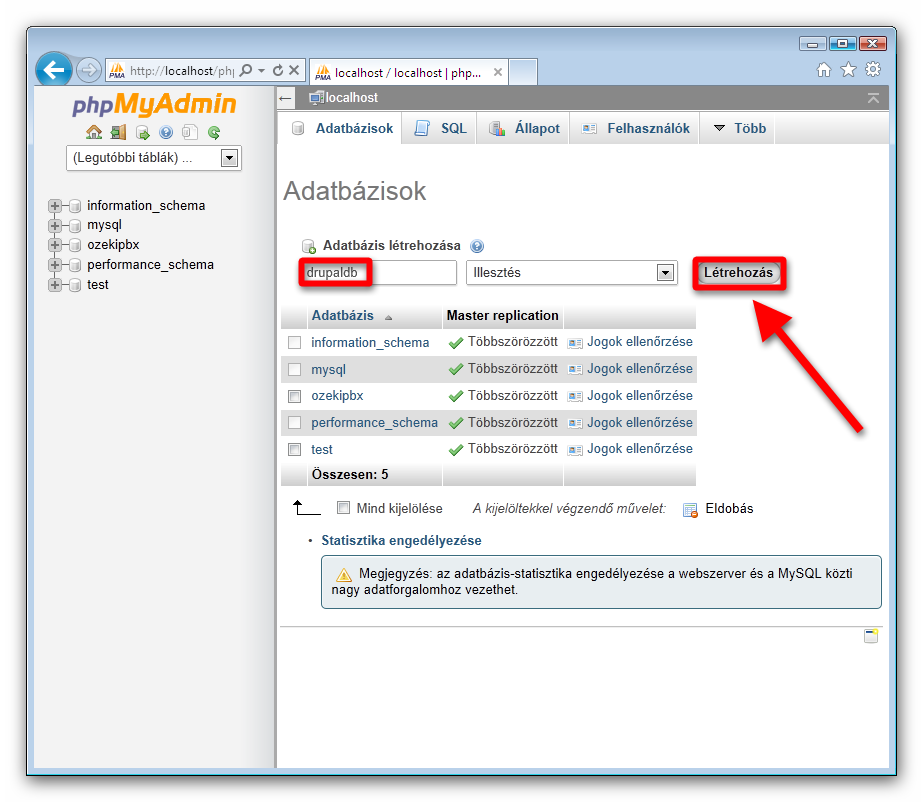 Figure 2 - Create the drupaldb database
After you have created the database open your browser and type in: localhost. Navigate to the drupal-7.24/ directory from the main page. Next you will see the installer. Select the installation profile and click on Save and continue (Figure 3).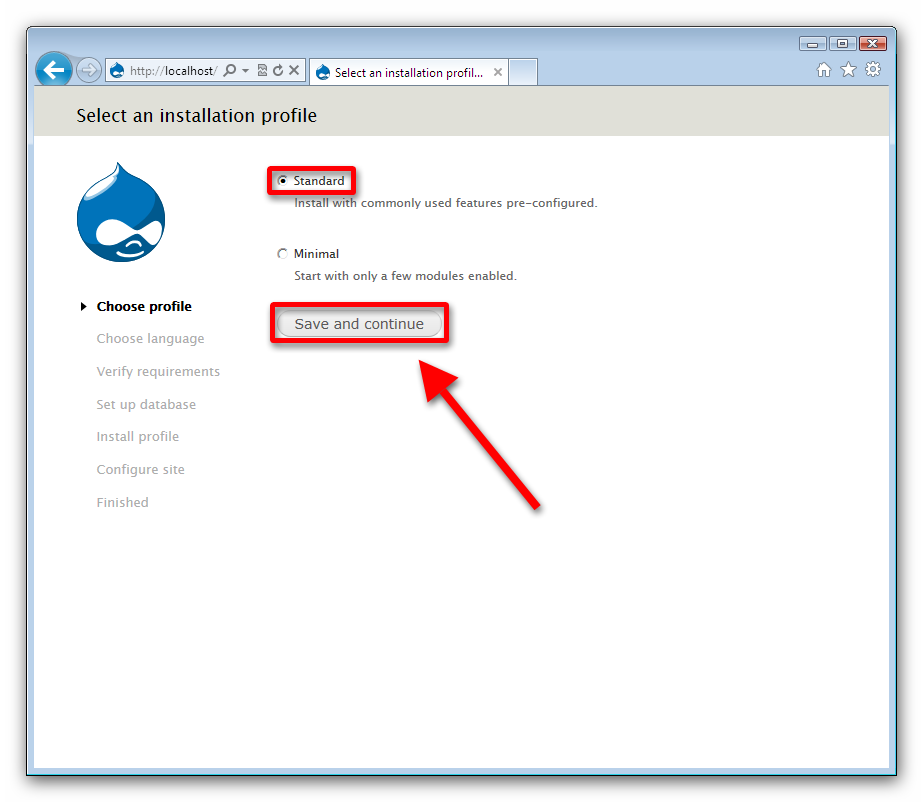 Figure 3 - Selecting an installation profile
The following two steps are simple so just click on Save and continue in them. In the 4th step select MySQL for the type of the database, then type in drupaldb for the Database name and root for the Database username. (Figure 4).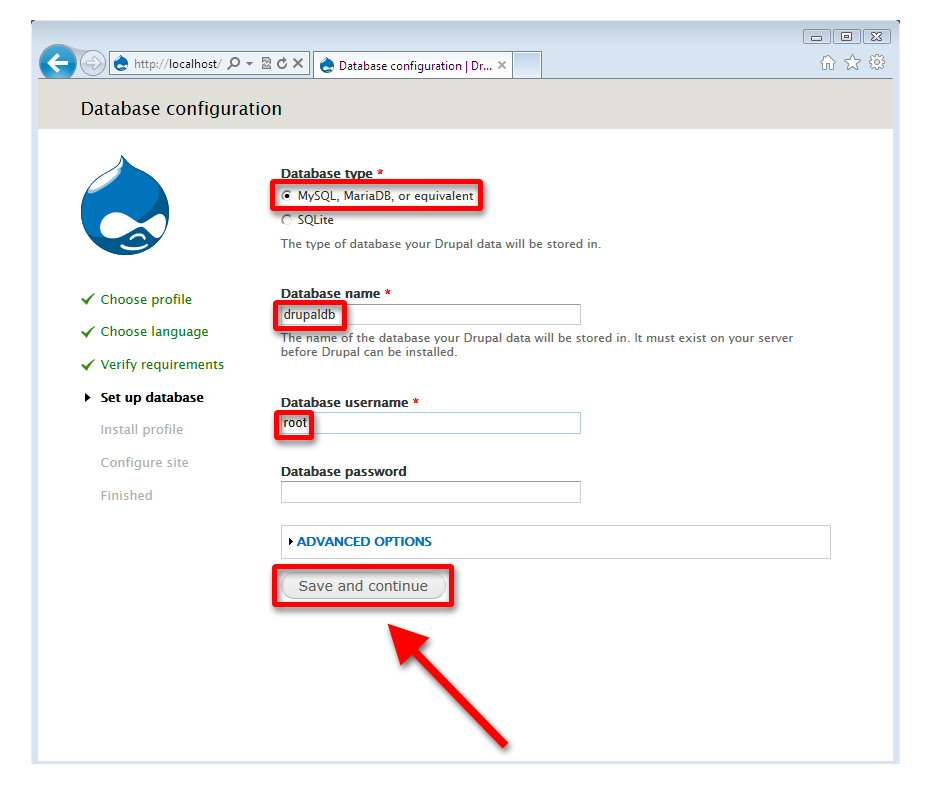 Figure 4 - Set up the database
Next you will see the installation process of Drupal (Figure 5).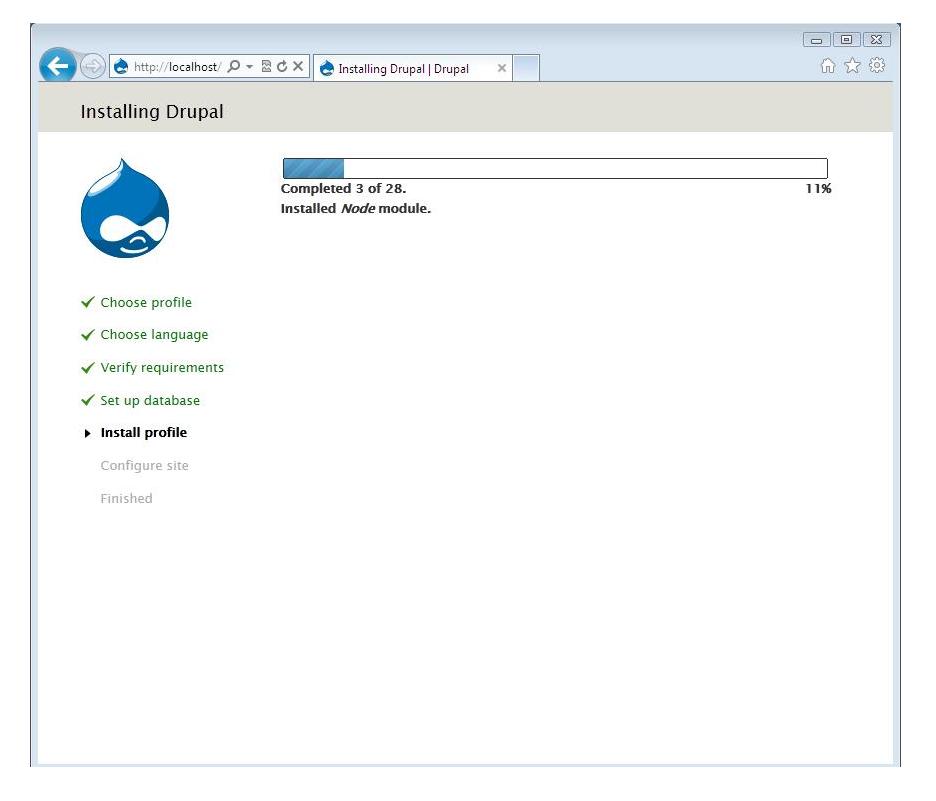 Figure 5 - The installation process
You will be asked for the name and e-mail address of the site then you will be asked for the details of the site maintenance account (Figure 6).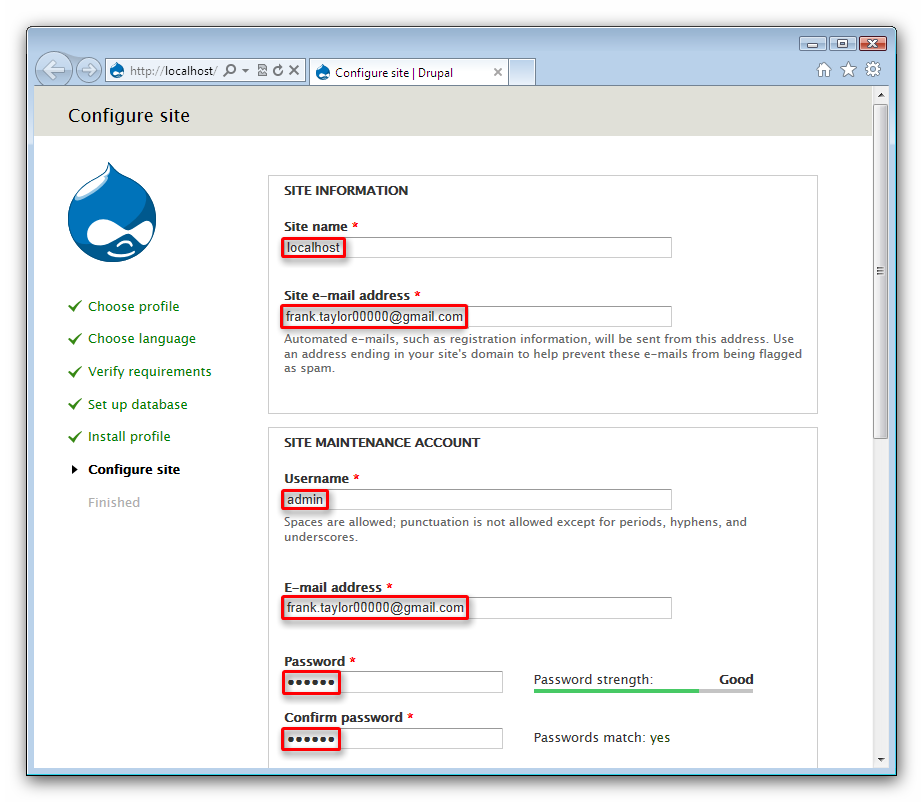 Figure 6 - Site configuration: part 1
Roll down the screen and select your country and time zone, then click on Save and continue (Figure 7).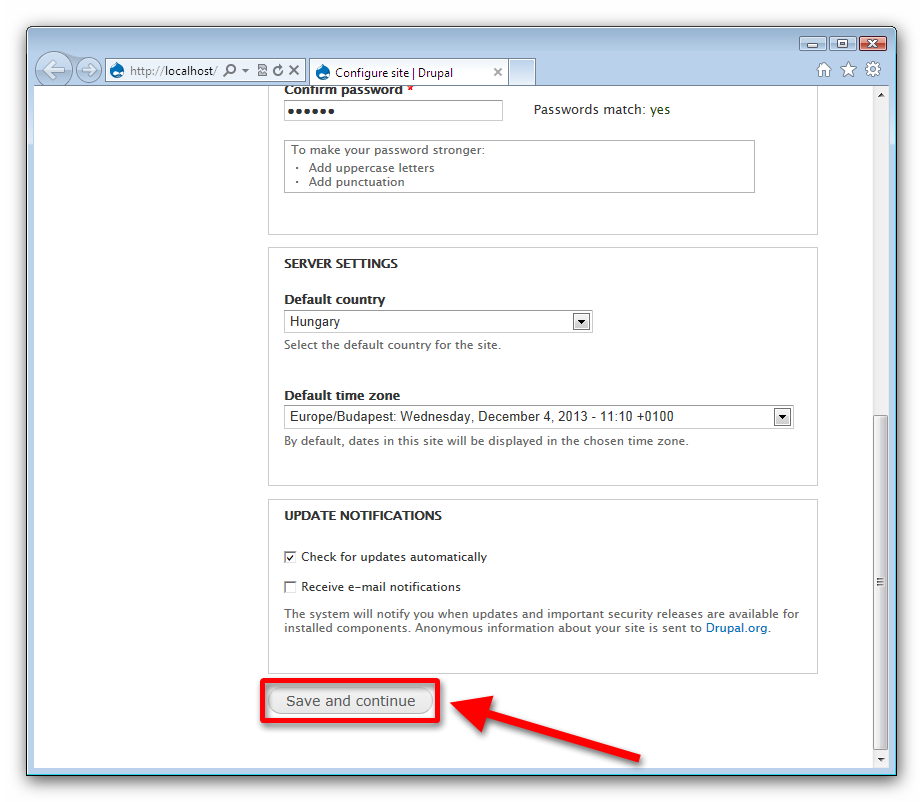 Figure 7 - Site configuration: part 2
With this you are finished, the Drupal is installed on your PC.
Step 3.) Connect Drupal with Ozeki Webphone Gateway
You have come to the part, where you can add a webphone to your drupal page. For this open Drupal in your webbrowser with the http://localhost/drupal-7.24/ URL, then click on the Content menu button (Figure 8).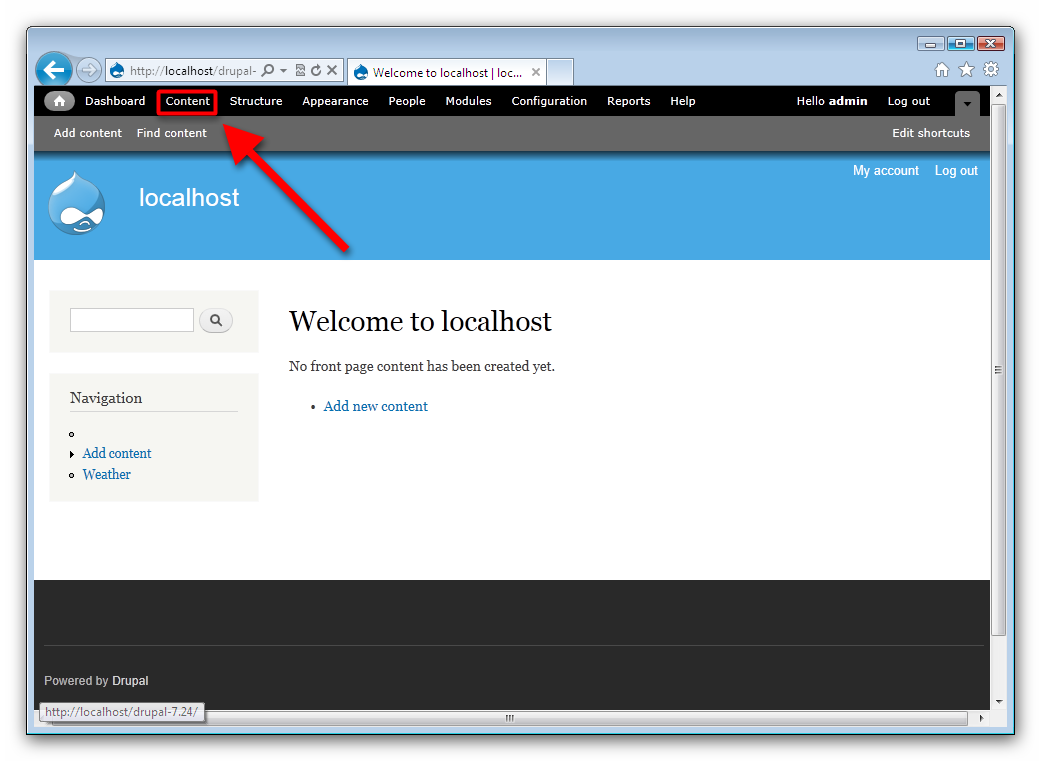 Figure 8 - Content menu
Next click on Add content (Figure 9).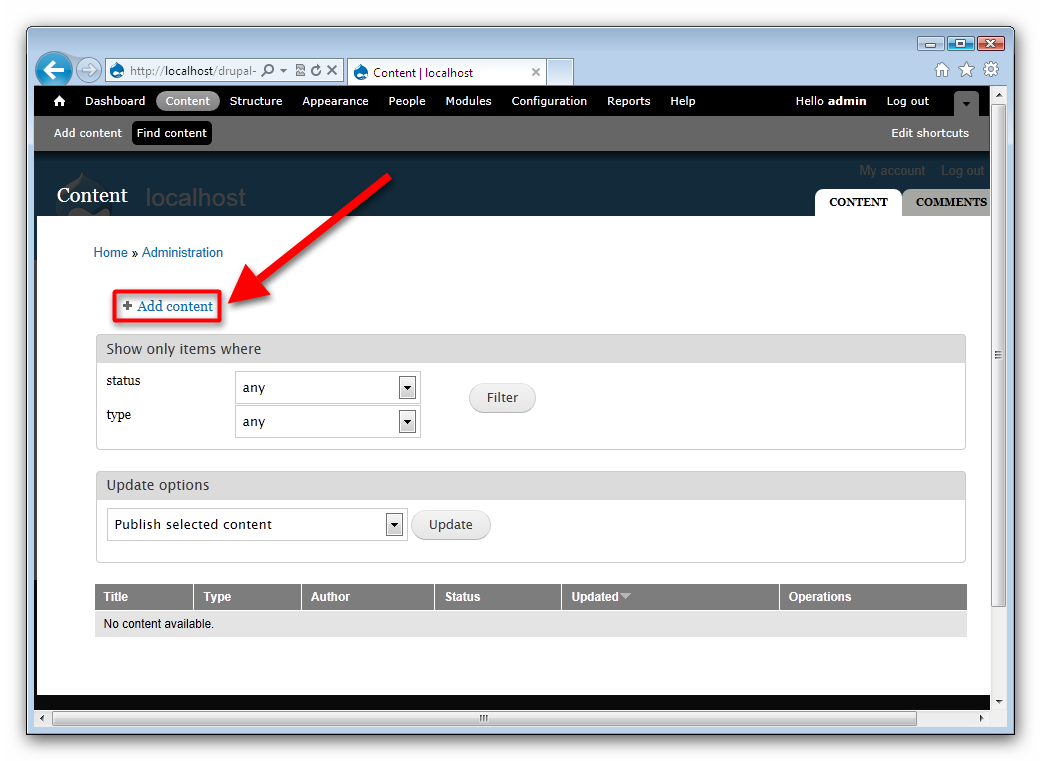 Figure 9 - Adding a content
Select Basic page for the content type (Figure 10).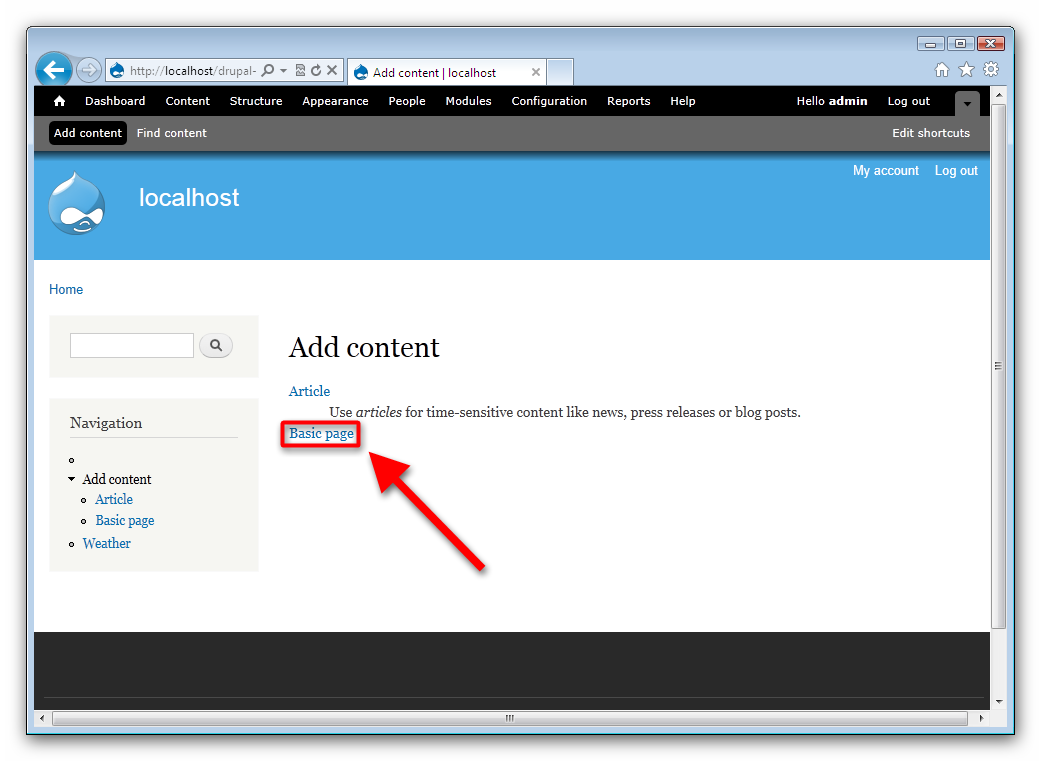 Figure 10 - Selecting the content type
Copy the generated code into the Body of the page. Note that, if the PBX and the webserver are hosted in different computers,you have to replace the generated IP address with the address of the PBX. Also change the port number to 80 (Figure 11).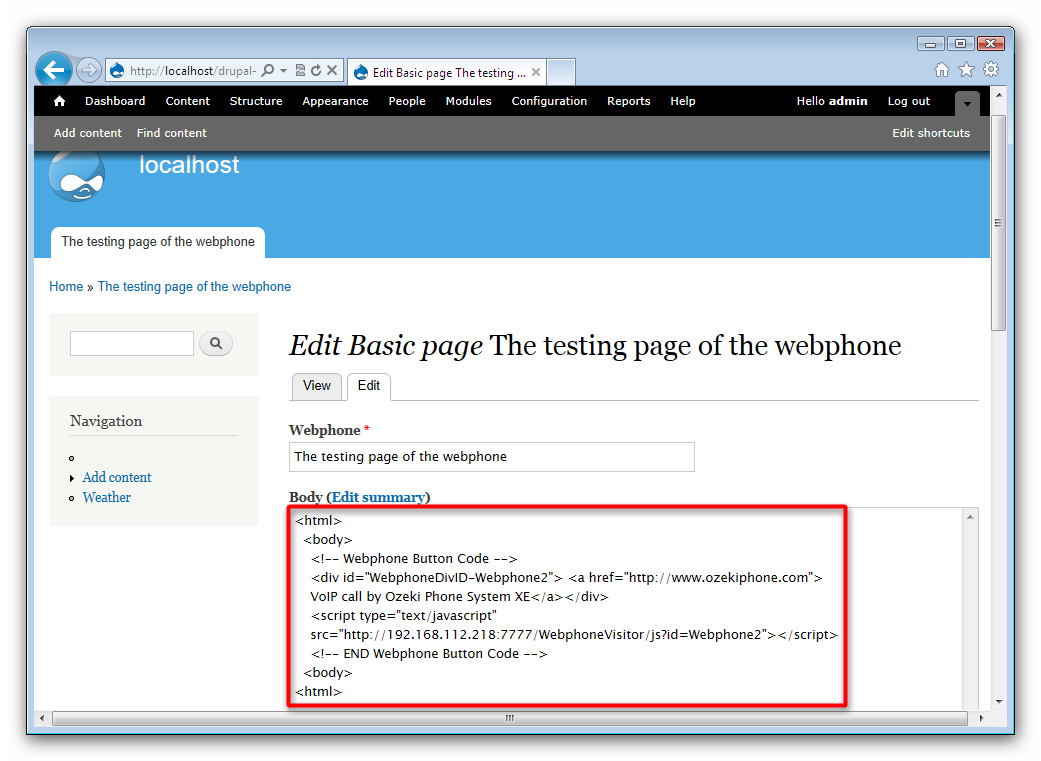 Figure 11 - Adding the webphone to the page
Roll down the page and select Publishing options, then thick in the Published and Promoted to front page options and finally click on Save (Figure 12).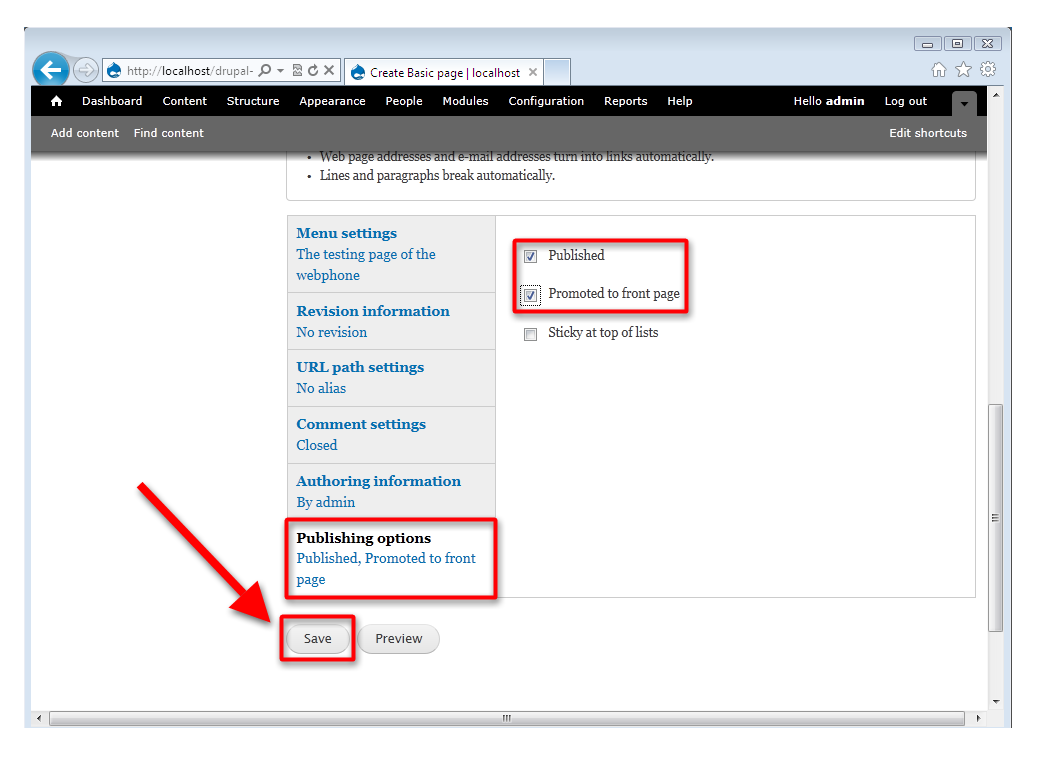 Figure 12 - Finishing the page
Step 4.) Make a test call
You are finished with your webphone, it is ready to be tested. To test it click on the green call button on the phone (Figure 13).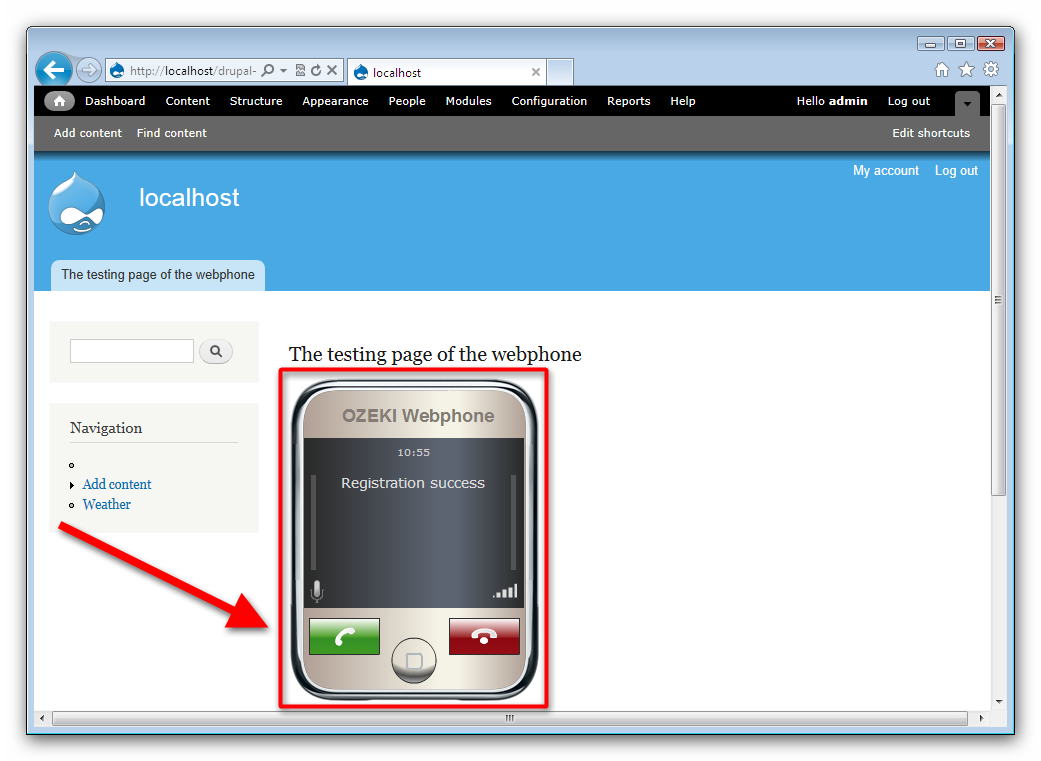 Figure 13 - Making a test call
A window will pop up with another webphone in it, clik on the green call button again. This time your call will be executed and you will be able to talk with the person at the other side of the line.
You can dial your own SIP devices if you click on the calling button. You should set a dial plan, don't forget to set it, because it will transmit the call to your customer (Figure 14).

Figure 14 - Check calling on Call History
Conclusion
If you have followed these steps, then you have installed the Ozeki Webphone Gateway and the Drupal CMS system and you have made phonecalls over the Webphone Gateway in your web browser. In these steps you could learn new possibilities of the CMS system of your business. You can add your Webphone Gateway into your website or your CMS system. If you have followed these steps and you have finished the configuration, then you can make phonecalls over the Webphone and you can dial your own phones and other devices which support the SIP protocoll.
If you have any questions or need assistance, please contact us at  info@ozekiphone.com
Dig deeper!
People who read this also read...
More information
---