---
Log your server via GUI fast and simply
Due to the transparent GUI of Ozeki Phone System, you can track all system processes easily. The graphical user interface is well-structured and easy-to-use, this way, it provides useful information about the system status. Ozeki Phone System allows you to log your events not only in log files but using your Web GUI with live update. Read more...
Ozeki Phone System offers you an efficient solution for logging all events related to extensions, outside lines and also the system related information like error messages, warnings and debug information. This way you can get overall information about your system processes.
Logging refers to the fact that Ozeki Phone System records operations, sent error messages, and outgoing and incoming data traffic effectively. As a result, you can easily follow the system status. This is a key factor in analyzing system data, in trouble shooting and in tracking system processes.
Figure 1 enlists the types of log entries that are available via the GUI of Ozeki Phone System. These are the follows: events related to SIP communication, log files related to system processes, log entries about call routings and error messages.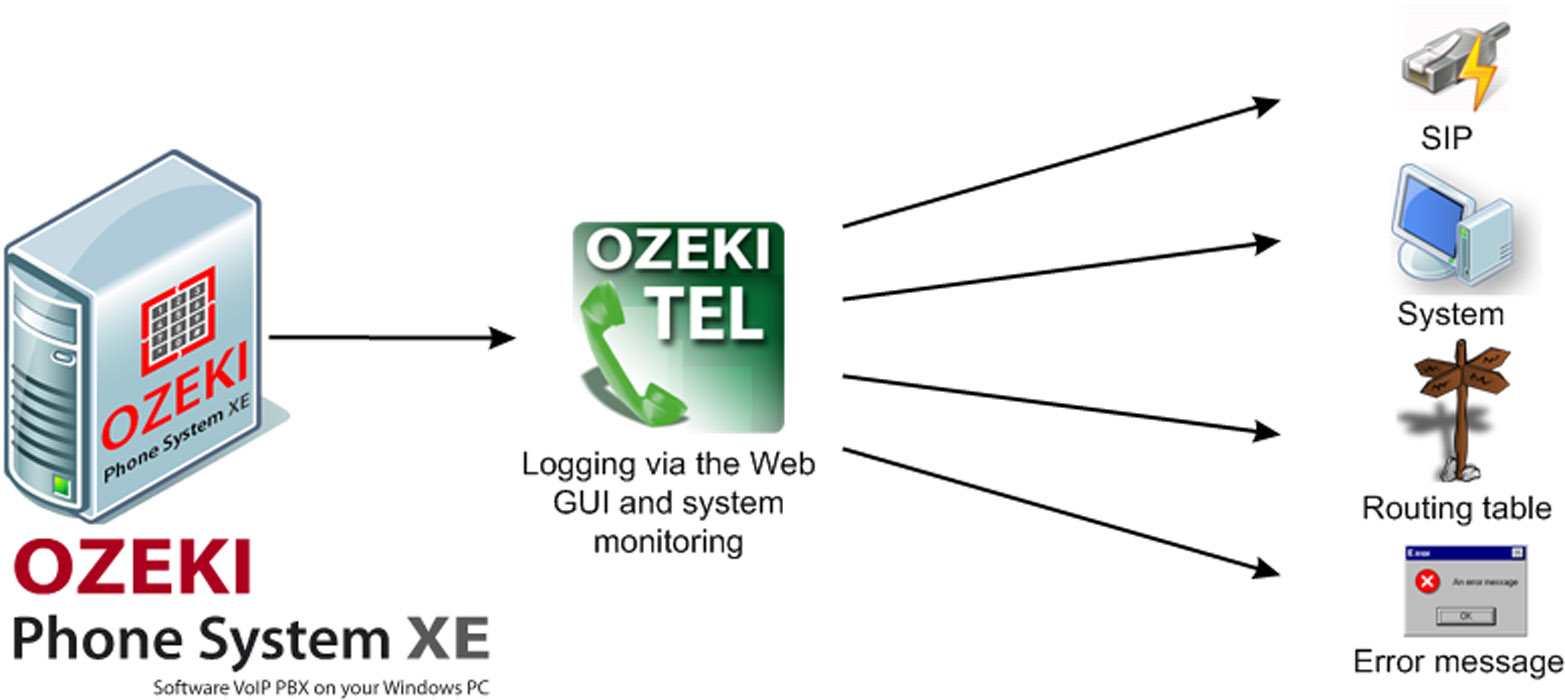 System logging via the GUI of Ozeki Phone System
Path for system logs:

You can reach system log sin Ozeki Phone System easily. For this purpose, you need to follow these menu points: PBX features > System logs

Structure of system logs:

Logs in chronological order: Events of system log are ordered according to their occurrence. This way, the latest log entry is the last one. You can easily view and trace earlier log entries in the system log due to the transparent order. By default, the entries of the given day are enlisted. However, you can easily set that date you wish to enlist the log entries.

Categorization of logs: In the graphical user interface there are transparent columns for the data of the respective log entries. This way, you can check the date of the entry, its exact time, the level of the log, the destination of the log and a short description for the log entry.

Automatic update: in case you enable Live update functionality, the system is able to update log entries automatically. If you disable this option, you can only reach new log events with manual update.

Log level: This option makes it possible to filter log entries according to log levels.

Error: only error messages are displayed (red)
Warning: only warning messages are displayed (orange)
Info: system information (green) and warning messages (orange) are displayed
Debug: all log entries are displayed


Search: Search functionality allows effective searching options between the data of log entries.

Time interval: By clicking on Logs showing from field, you can define the day from which the system should display system logs. You can use the built-in calendar to choose the right day for your needs.

Log settings:

In order to reach log settings in Ozeki Phone System, please follow these menu points on the graphical user interface: PBX features > Preferences > Logging

Log file settings: it refers to the general log settings

Enable file logging: to enable/disable logging
Log level: to specify the log level
Log directory: to specify the directory that will include log files

Log rotation: this option is for rotating, renaming too large log files in order to save space

Log rotation: to enable/disable log rotation
"Maximum log file size": to specify the maximum available log file size
"Number of rotated files": to specify the number of the rotated log files
"Compress rotated files using zip: to enable/disable the compression of rotated log files

Configuration guide
With the help of Web GUI you can trace back system processes easily and efficiently. Please check this guide on how to boost GUI logging options of Ozeki Phone System successfully.
1. Prerequisites
First of all, you need to type in your username and password to login into your Ozeki Phone System (Figure 2).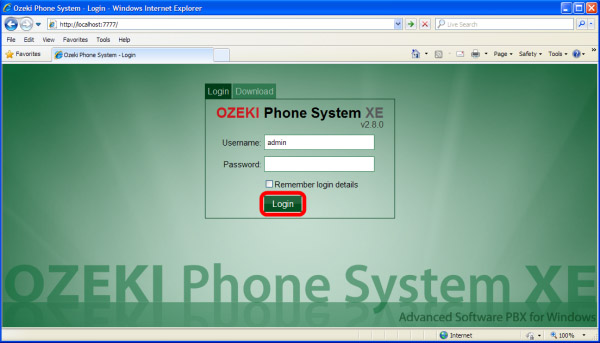 2. System Logs
To see your system logs click on PBX features and then System Logs menupoint (Figure 3).

Under the System Logs you can choose the Debug level to find errors or bugs in the system so that the bugs can be removed to make the server function seamlessly (Figure 4).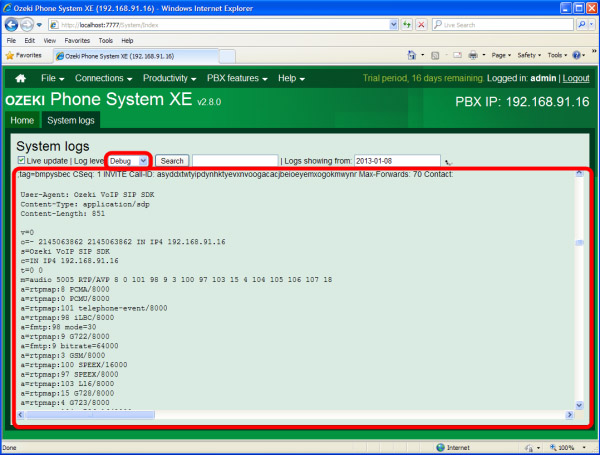 You can also choose the Info level where you can get information about the data of your registered devices (Figure 5).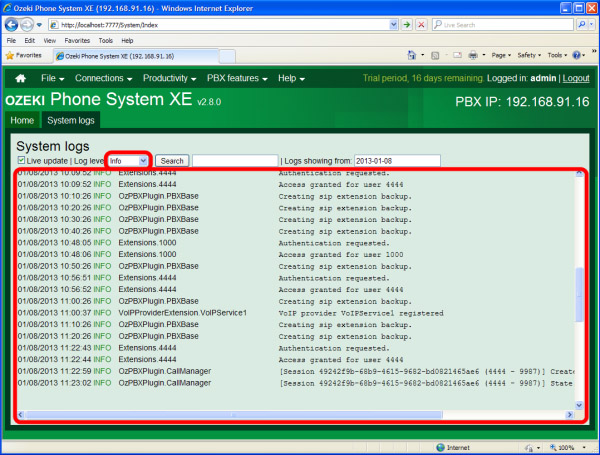 Warning log level shows you different messages about the system. Here you can see the files that cannot be found or resolved.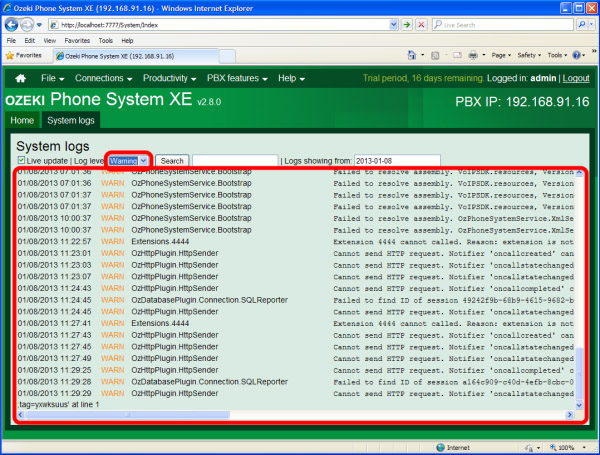 The last level option you can choose is Error. Error messages of the system will appear when an unexpected condition occurs (Figure 7).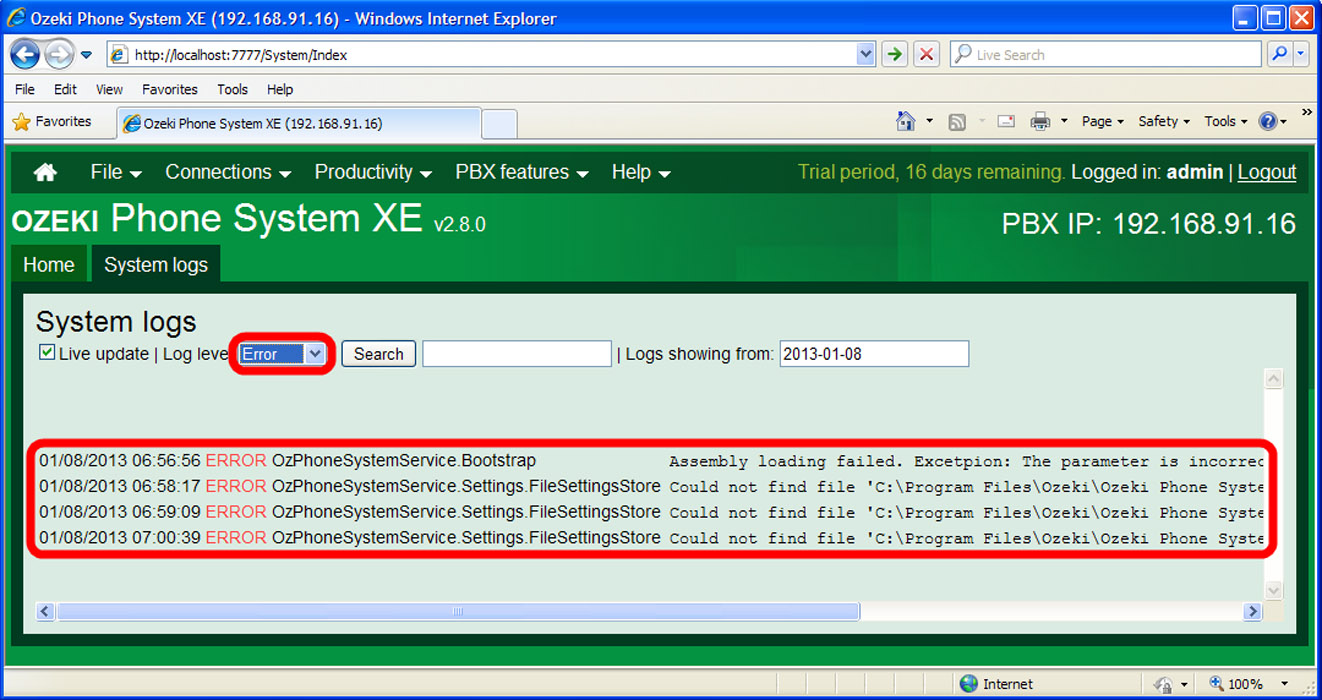 There is another option to monitor your system: you can log your devices separately, as well. It means that within a SIP extension under the Log menupoint, you can see the log events of the given device separately in a transparent way (Figure 8).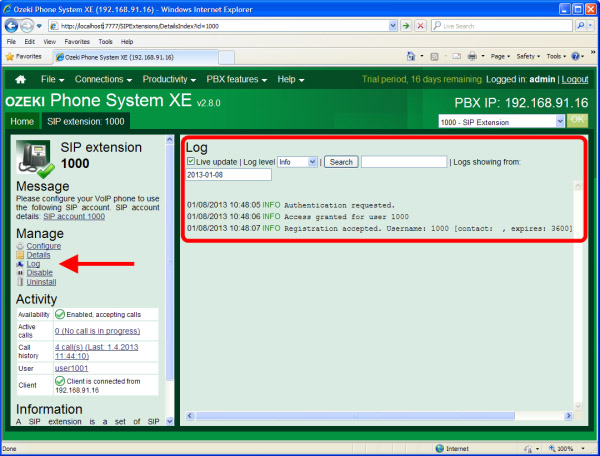 Keep in mind
The graphical user interface of Ozeki Phone System offers you completely transparent and efficient logging. The logging options of Ozeki Phone System allow you to customize system log files and log entries according to your needs. In this way, you can effectively and quickly use the log files for troubleshooting, improvements and for tracking system related events and processes.
For more information, please do not hesitate to contact us at info@ozekiphone.com
Learn more about Ozeki Phone System services:

More information
---
---