OZEKI
Phone System
GSM Network Connection
How to connect your PBX to mobile telephone networks
Overview
GSM network connection enables incoming and outgoing VoIP and GSM cellular calls. It is great alternate to PSTN, especially in area where GSM service is not available for VoIP call termination. GSM network connection provides significant advantages especially for calls from IP to GSM.
In order to create connection between your VoIP network and the GSM network, there is need for a GSM Gateway. The GSM Gateway is an excellent device for VoIP to wireless service where PSTN is not available or for mobile phone roaming via the VoIP network. The GSM Gateway enables direct routing between VoIP network and GSM mobile network, therefore it makes it possible GSM voice calling and SMS messaging as well.
We highly recommend to use Ozeki VoIP GSM Gateway that provides multiple GSM channels. This device guarantees significant advantages for your business.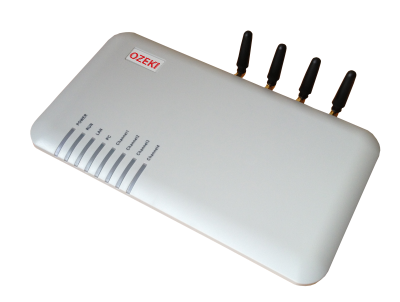 What you need
Ozeki Phone System
Ozeki Phone System is a revolutionary software-based IP PBX for Windows. Due to its rich functionality, Ozeki Phone System increases the efficiency of your communication system. Discover the core benefits, like webphone, mobile extensions, SMS messaging and learn more about Ozeki Phone System.
Ozeki VoIP GSM Gateway
Ozeki VoIP GSM Gateway is the ideal device to connect Ozeki Phone System XE to the GSM network. Ozeki VoIP GSM Gateway is a perfectly reliable adapter, which enables incoming and outgoing calls from the GSM mobile network via 1 or even 4 GSM channels. Get more information:
Benefits
Enables SMS sending and recieving
Allows VoIP voice calls
Supports mobile phones as PBX extensions
Provides significant savings in usage
More information