---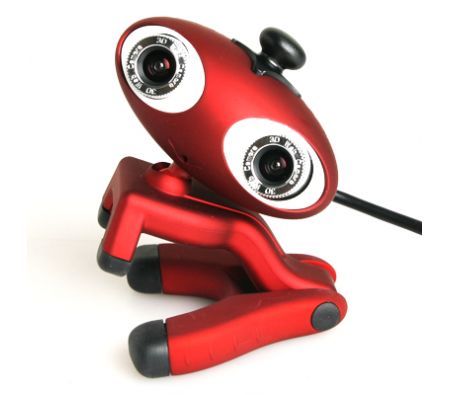 iTrax 3D Webcam
3D webcam for greater experience
Multi-position stand • Built-in microphone • Stereoscopic effect
Overview
iTrax webcamera is one of the first 3D webcameras of the world. Surpise yourself with it, and record videos in 3D and then upload them to Youtube™, use mind-blowing special effects, connect it to your PC with USB.
This 3D webcamera also functions as a regular 2D webcamera, you are free to choose the desired function. Enjoy the view in 100%, 200% or even in full screen! Both of the lenses are high quality wide lenses, with VGA 640x480 CMOS sensors. You do not need to connect another microphone, since it has a built-in one.
The pack includes five 3D glasses, so more call center agents can talk website visitors in an interactive way. It is also possible to take 3D snapshots, and the share them.
Last but not least, it is compatible with your favourite instant messaging programs, such as Skype.
Key features
3D, Standard 2D, Picture in Picture and
video mode
Resolution: 320 x 240, 640 x 480
2 x VGA 640 x 480 CMOS sensor
2 x High quality wide angle lens
View: 100%, 200%, Full Screen
Special effects including, delay-shot,
continuous shot,recording, animation, frame,
bush pencil, lens focus aid function
Output-3D optimised anaglyph (red/cyan),
standard 2D
Dimensions: (W) 11cm x (D)3cm x (H) 7cm
Built-in USB microphone
Multi-position stand
Compatible with Microsoft Windows XP, Vista, 7
More information
---
---