---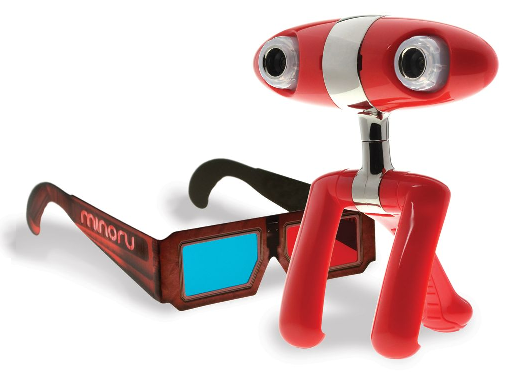 Minoru 3D Webcam
Transmit and record your videos in 3D
High Speed 3D Webcam • Stereo base • VGA CMOS Sensor
Overview
Rock your world with the first commercial 3D webcamera, that can be used as a range sensor, too. Minoru 3D webcam has two cameras placed roughly the same distance apart as human eyes, for the stereoscopic effect. So stereoscopic anaglyph processing, lets anyone, who has commonly available 3D glasses, see you in three dimensions.
It is compatible with your favourite video conferencing applications, such as Skype. Minoru also compatible with Windows XP/Windows Vista/Windows 7/Windows 8/Windows 10.
Different 3D modes are supported for example, by Carl Zeiss cinemizer Plus, or 3D monitors, such as monitors from Zalman, Hyundai, Miracube and JVC.
The camera can also be used to take 3D photos or record 3D videos, then upload them to YouTube. It can also be used as a normal 2D Webcam.
Please note that Minoru 3D webcam Requires a free USB 2.0 port, 2.4 GHz Pentium 4 processor, 512MB RAM, and 100MB hard disk space.
Key features
USB 2.0 High Speed 3D Webcam
Output Modes – 3D, 2D, Picture in Picture (PiP), Side by Side (Cross-eyed and Parallel view, 4:3 squashed or 8:3 wide aspect ratio)
Output size – 1280x480, 800x600, 704x288, 640x480, 640x240, 352x288, 320x240 pixels
Frame rate - 30 frames per second
Power consumption < 1.5 W operating mode,
<2 mW in standby mode
Stereo base – 60 mm
Row interlaced mode (suitable for eDimensional shutter glasses)
Interlaced/Interleaved mode also compatible with 3D
monitors from Zalman, Hyundai, Miracube and JVC
2 x VGA 640x480 CMOS sensor
2 x High quality wide angle lens
Built in USB microphone
More information
---
---