---
Ozeki Phone System is the best choice to
your future communication system
Ozeki Phone System is the best option to integrate your corporate telephone system into your existing IT infrastructure. By synchronising data between the PBX and your ERP/CRM systems or SQL database, you will be able to build a fully automated, next-generation communication system to ensure seamless information flow and more direct relationships. Read more ...
Forget the old, huge boxes on the wall with many cables. Today's cutting-edge PBXs are software-based systems installed on your PC. As a 2nd generation VoIP PBX, Ozeki Phone System offers a bunch of revolutionary features, as well as SMS messaging, webbrowser and mobile platform support and more advanced VoIP/SMS/Email functionalites.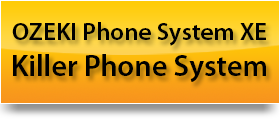 Learn about Ozeki Phone System
Benefits
Setup
Feature List
Data Sheet
Tools and Accessories
Install Ozeki Phone System
Basic Installation Steps
Connect Mobile Phones
Connect Desktop Phones
Connect Telephone Networks
Connect SMS Services
Connect Websites
Manage Calls
Setup PBX Services
Call Routing
Connect Other PBXs
You can find examples, guides about how to make, accept, record and route calls, send and receive SMS messages, separated by programming languages:
C# .NET VoIP 101
Visual Basic .NET VoIP 101
JavaScript VoIP 101
PHP VoIP 101
Ruby VoIP 101
ASP.NET VoIP 101
Perl VoIP 101
Python VoIP 101
Java VoIP 101
Control the PBX through databases by using SQL API
You can use SQL API for the purpose to log call and PBX information and events, to make automatized calls and send SMS messages from databases and much more, by connecting your prefered database server.

---
---