---
How to connect a Desktop VoIP Phone to the Ozeki Phone System
Due to its great flexibility, the Ozeki Phone System enables to connect desktop and mobile phones as well to your PBX. This guide focuses on VoIP desktop phones and describes what you need and how you should configure your desktop IP phone in order to integrate it into your telecommunication network. To achieve this objective, you need a desktop IP phone (such as Grandstream GXP2000 in our example) and an Ozeki Phone System installed on your Windows PC.
Do you need a Mobile Extension? Click here
Video tutorial:

How to connect a Desktop VoIP Phone to the Ozeki Phone System
What you should do to create a connection
Step 1:
Create a SIP account in Ozeki XE
Step 2:
Configure your Desktop Phone
Step 3:
Setup dial plans
Step 4:
Make a test call

Step 1: Create a SIP account in Ozeki XE
In order to connect your desktop VoIP phone to Ozeki Phone System, first you need to create a SIP Extension. You can find a detailed guide on how to create a SIP Extension here.
Step 2: Configure your Desktop VoIP Phone
After you have connected your phone to the VoIP network with the proper cables, the system will assign an individual IP address to the phone by using DHCP. If you use a Grandstream GXP2000 desktop VoIP phone, the IP address can be easily read at the display of the device (Figure 1). If you use another type of desktop phone, you may find it in the menu system of the telephone.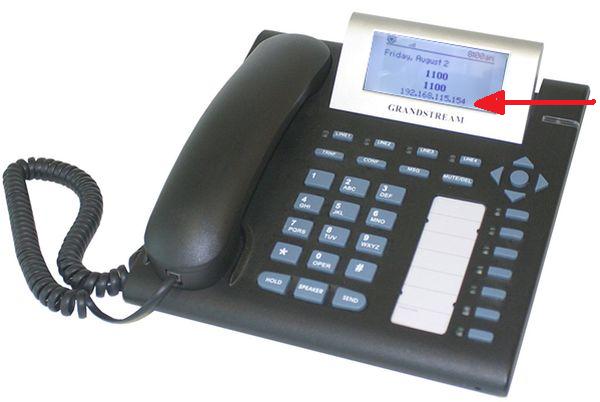 For configuring your desktop phone, you need to open the configuration page of the phone by typing its IP address into your web browser. (In case of Grandstream GXP2000, you need to click on 'Account 1' for configuring the extension onto the Line 1.) On the configuration panel you need to specify the following information (Figure 2):
Account Active: Yes
Account Name: e.g. YourCompany
SIP Server: the IP address of your Ozeki Phone System
SIP User ID: the user part of an SIP address
Authenticate ID: can be same or different from SIP User ID
Authenticate Password: optional
Name: optional, e.g. John Sample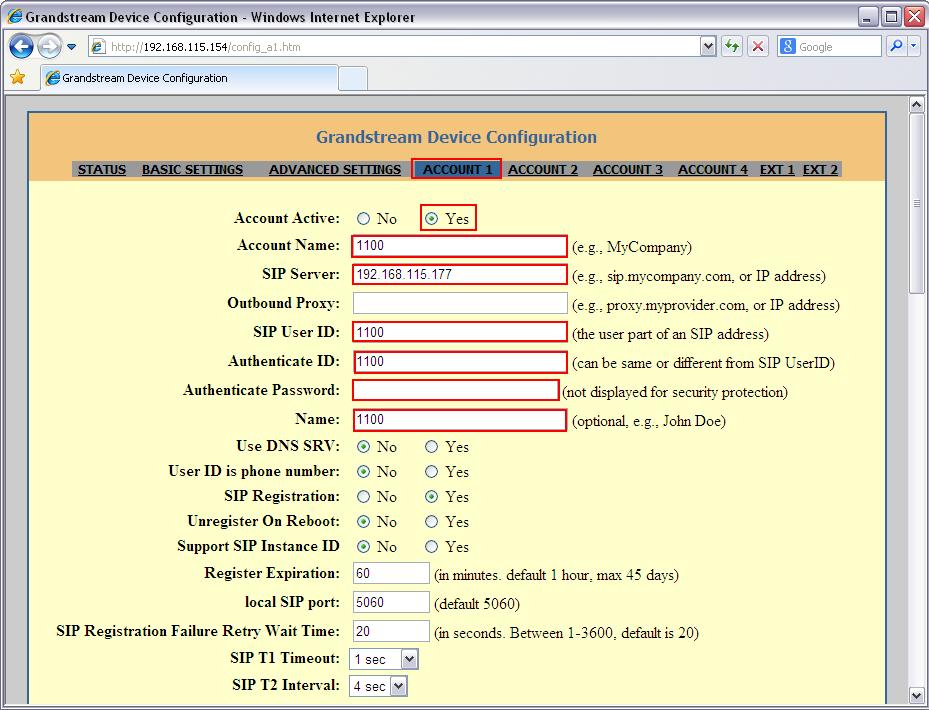 If you use another kind of desktop phone, you also need to specify a Display name, Username (Extension phone number), Password, Authentication name and the IP address of the Ozeki Phone System.
After specifying the SIP details, click on the 'Update' button at the bottom of the page. The phone will be booted. When it is ready, click on the 'Reboot' button.
Now return to the Ozeki Phone System and click on the Log button. The 'Registration accepted' message will appear, if your configuration was successful.
Step 3: Setup dial plans
By default, every SIP extension can call other SIP extensions, but there are cases when you need to call telephones in PSTN or GSM networks. In these cases, you need to setup Outbound routing rules. It is also possible that there are incoming calls from the PSTN or GSM networks. In these cases, you need to add Inbound routing rules to forward them to VoIP phones. For sending and receiving SMS messages, you need to add new Message routing rule. If a call is not answered by the destination and you wish to forward the call to a voicemail, you need to add a new Missed call rule.
Step 4: Make a test call
In order to make a call, dial the phone number of your new extension by using an other extension of your VoIP network. (In our example the No. 1200 extension dialled the new No. 1100 Desktop VoIP Phone extension.) Figure 3 shows that the whole call process can be tracked in the Log panel of your extension. 'Setup and Ringing' message indicates that an incoming call is in progress. 'InCall' message shows that the incoming call has been answered. After finishing the call, the 'End Call' message will appear.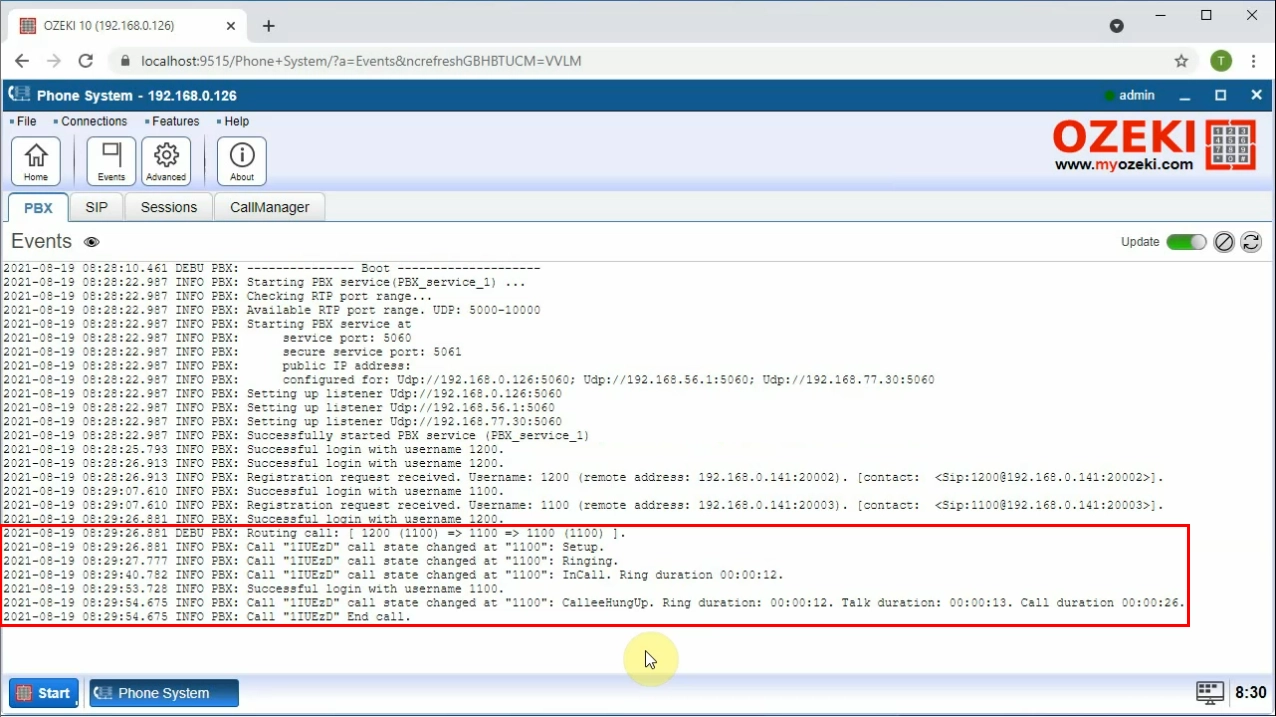 Conclusion
The guide above presented that Desktop VoIP Phones can be easily connected to the Ozeki Phone System. If you follow that step-by-step, you will be able to install a new SIP extension in the PBX and configure your phone on its web GUI quickly. That's it. After that, your phone will be ready to use.
If you have any questions or need assistance, please contact us at  info@ozekiphone.com
More information
---
---